183 McCrae St Purchase
In early 2019 the residential property adjoining the grassed play area was purchased. This has been a strategic and important tactical acquisition and addition to the school grounds and is the focus of the first stage of the school's masterplan.
Latest Updates
183 McCrae St
Design & Planning
Construction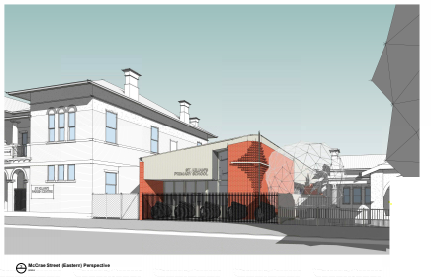 'Iona Building' project update - August 2021
We are excited to share meaningful progress on site over the last month, with the structure rising from the ground.
Searle Brothers building contractors advise steel framing is progressing well and will be completed in the coming week, with brickwork to follow the framing stage. The following provides a brief summary of the status of the project:
Electrical trench and mains connection completed
Structural steel works (framing) – 80% completed
Discussions and works underway for neighbouring shed
Brickwork scheduled to commence once framing install is complete
Roof measure will commence on completion of framing
Construction program on track despite shift to steel frame
It is estimated that based on current timelines that works will be complete and building handover will occur in October. Planning has begun for landscaping and the fitout of classrooms.
How can I ask questions or make suggestions?
Email: This email address is being protected from spambots. You need JavaScript enabled to view it. or contact one of the Project Control Group Members
Contact us
A Project Control Group (PCG) has been established to manage the objectives of the learning space and identifying preferred use, manage the budget, work with stakeholders (primarily Bree Architects) in the design and construction, and to manage communication across the school community.
The group is made up of:
Kimberley McSweeney - Learning and Teaching Lead & Client/Project Management
Kendyl Hopley – Client/Project Management
Allira Holmes – Communications
Jessie Crozier – Financial management
Brock Pinner – PCG Chair & Communications
Bree Architects (Jo and Joost Van Bree) - Architects & Project Management
Please speak to any of us or email This email address is being protected from spambots. You need JavaScript enabled to view it. for further information
Photos of the project below