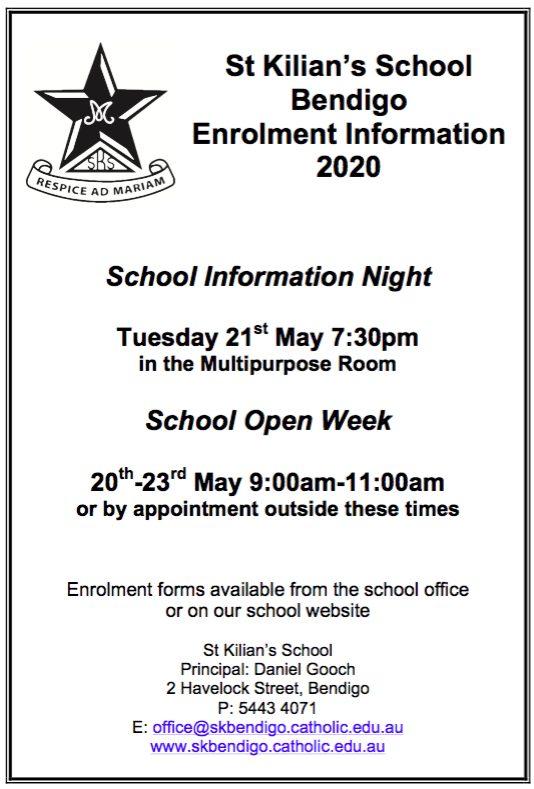 School Enrolment forms for 2020 are found here
TRANSITION
The transition from Pre-School to School and from Primary to Secondary School can be a traumatic and stressful experience for child and family. To alleviate the stress and enhance the positive aspects of such an experience, St. Kilian's School will make every attempt to ensure transition is both positive and enriching for child and family.
St. Kilian's transition program includes:
• Information meeting for parents and school tour.
• Opportunity for prospective students to experience the new school environment.
• Exchange of information and collaboration between Pre-school teachers and school.
• Orientation and information session for parents.
• Class induction sessions for Pre-school children during Term 4.
• Class placement of new students with familiar playmates.
ENROLMENT
St. Kilian's School accepts enrolments from pupils residing anywhere within the district of Bendigo and particularly those from St. Kilian's Parish. An Open Day and an Information night are advertised on our calendar or are available by contacting the school (these usually happen in April and May). The enrolment of pupils for Preparatory grade is held during the preceding year. All children must turn 5 years of age on or before April 30. To enroll children, an appointment may be made with the Principal.
Non-Catholic families are welcome at St. Kilian's, if class sizes permit. We encourage families to be supportive of our Catholic traditions and practices and children in the school are involved in the life of our Christian Community. Parents transferring from other schools need to obtain a Transfer Note and Immunisation Certificate from their former school before official enrolment can take place.